210 Simple Vector Icons
Every now and then designers like to promote their work by giving you a little sample of the bigger package that they're offering. It could be a sample page from a multipage website template or it could be one piece of a larger Photoshop file. Each week on web design blog I share different icon sets that you can download for free. This week you can download 210 Simple Vector Icons from the Minicons collection . The larger set has 1500 icons that you can use for websites and web development. This set includes 210 of those icons. You can preview the 210 simple vector icons below.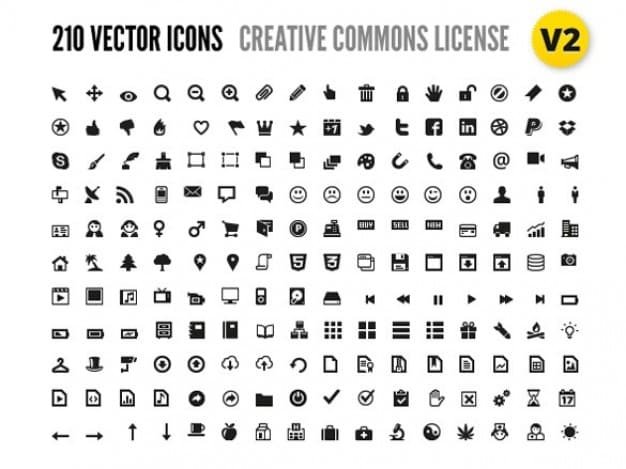 It is awesome enough that you are receiving 200 simple vector icons to use in your work for free. This collection alone is awesome enough to jump for joy. There are a wide range of icons available for different applications. You will find simple icons for arrows zooming in and zooming out smiley faces and many other icons that you would expect to find on the website or an application. You will find many practical icons in this set such as an RSS feed icon stars Twitter Facebook and LinkedIn Ikons PayPal dribble and Scott icons as well. You will also find many different icons for documents and layout as well. There are also icons that represent different file types such as documents with text music files charts movies and more. There are also icons that are practical for a wide variety of situations such as mail Sound chat charts location icons that you would use on the map and download and upload icons.
Download 210 Simple vector Icons
If you're looking for a great set of icons that you can use in your designs then 210 simple vector icons is the right set for you. This set is a large set just by itself, but it is only part of a much larger set. You can download this icon set and use it for free in your print and web design applications. If you get a chance you should go to the Minicons website and check out the other icons that are available. You will be pleasantly surprised at how practical and useful these simple vector icons are. If you use these awesome icons in your work you should share the set with others via social media and help promote their work. To download the simple vector icons collection, click the link below to be taken to do the download page.