If you're like me, then you have several websites that you're running at one time. It can become a bit overwhelming when you have to look after each website individually. You can only be in one place at a time, so it only makes sense to have a little help when looking after your websites. Website monitoring services can keep track of your websites and let you know when they are down. You can have them send you a text message or an email notifying you of when your website isn't displaying properly. This can help you to know the very minute your website goes down, so that you can bring it back up again as quickly as possible. Also, if you have a website clients, it can help you to get their website back up and running before they ever realized it is down. This makes you look like a hero in the long run, and helps you to stay on top of everything for your clients. Let's take a look at a few free website monitoring services and their features.

Free Web Monitoring
Features:
Website Testing Every 60 Minutes
Weekly Statistics Report
Email Alerts
False Alarm Protection
Primary and Secondary Email Addresses
Monitoring For Multiple URLs Within One Account!
Binary Canary
Features:
Monitor not just websites, but email, servers, routers, & more.
1 minute monitoring, up to 1440 checks per day.
Global monitoring: monitor from multiple locations around the world.
The have a fail safe to negate false alarms.
Monitority
Features:
Easy set up. Get started in minutes.
Always free. There are no hidden fees, just uptime monitoring.
24/7 continuous monitoring of your website.
Receive Tweets, alerts, emails or text messages when a site goes down.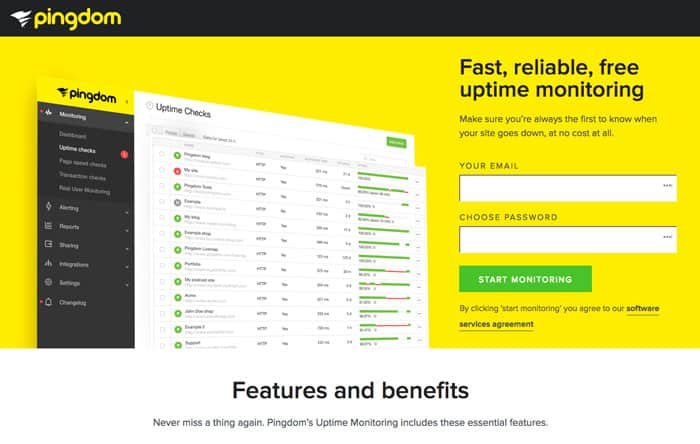 Pingdom
Features:
Monitor your site around the clock to verify that your site works.
Monitor from 70+ locations globally.
Immediate alerts that you site has gone down or come back up.
Receive data based reports to solve problems and correct issues.
Android and iOS apps for monitoring on the go.
Free and premium accounts, packed with features.
Uptime Robot
Features:
50 monitors, checked every 5 minutes, totally free.
Check HTTP(s), ping, port and keywords.
Receive alerts via e-mail, SMS, Twitter, push, Slack, HipChat, web-hooks.
View uptime, downtime and the response times.
Verifies downtime from multiple locations.
Ignore minor downtimes by setting "alert once (or every x minutes) if down for y minutes" – This is a big one!
Define maintenance time periods in order to not get monitored.