Inspiring Web Design That Will Blow You Away
Hundreds of websites are designed everyday and put on the web. Here, we list some of the most innovative websites. We'll also cover the features that make them stand out. I have put together a collection of inspiring web design examples that will inspire you. They'll motivate you to create innovative work. These 6 sites are examples of truly inspiring web design.
1. Aspen Homes
Designer: Eden Creative
Architecture is all about design and the underlying convenience that it brings with it. Aspen Homes is a custom home builder from Idaho, USA. They have a website that does justice to their profession. The site is the perfect example of vertical scrolling. It provides most of the information on the home page, while allowing you to use the menu. You can instantly move to other relevant pages, even when you have scrolled down to the bottom of the page. The website is also the ideal example of minimal color usage.
2. Progress – Architektur auf Zeit
Designer: Heiko Gimbel
URL: http://architektur-auf-zeit.de/
The Germans have always demonstrated their knack for design and engineering. It is not a surprise that their flair descends upon website design too. Web design is in a niche where design is everything, just like architecture. Progress' website is the perfect example of German design. Following on the new trend of providing most information in one place, the page provides all the relevant info on the home page.
3. McDonald's 40th Together
Designer: Razorfish London
URL: http://www.40together.com/
McDonald's celebrates its 40th anniversary by asking its fans to share their memories. The website uses Google speech recognition to transform the fans' voice. it molds into an elegant typographic animated poster with webGL. A unique URL name, the website is a total dedication to McDonald's fans. It provides colorful and interactive handles, allowing you to explore the memories.
4. Twin Pine Journey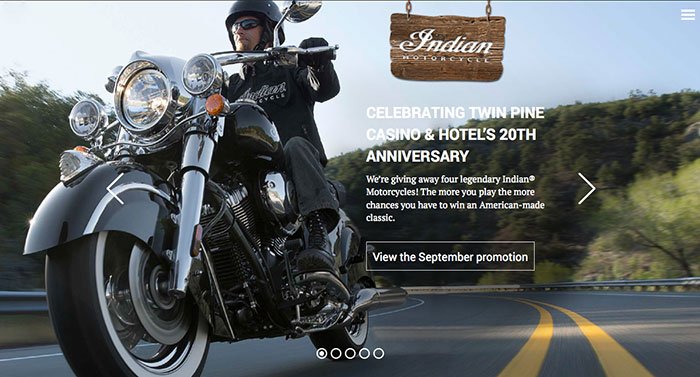 Designer: Crowd – Creative Communications
URL: http://www.twinpinejourney.com/
Hospitality is all about presentation. Twin Pine Casino and Hotel doesn't just have a unique name that implies holidays. The website is a magnificent piece of design and functionality. The site may use some elements of Flash, but that only adds to its elegance.
5. NEApolitan Pizzeria & Birreria
Designer: Mopro
URL: http://www.nealaguna.com/home
Neapolitan is one of the leading suppliers of ingredients to authentic Italian cuisine. When it comes to food, the company's website designer knows the importance of visual effects. The site displays foods in its simplest, yet well-dressed form. The Menu is something you can check at will, if you want to.
6. The Colors of Motion
Designer: Charlie Clark
URL: http://thecolorsofmotion.com
As the name suggests, this tech website is related to movies. The website takes you on a "tile" featured tour of some of the biggest Hollywood flicks. Scroll through and explore the colors of each movie. Innovative and unique, The Colors of Motion is a rare attempt at motion pictures.
These are some of the most inspiring web design examples that stand out from the crowd. Which one is your favorite? I really like the McDonald's site, because of its powerful emotional connection.