Social Sharing Plugins
Facebook, Twitter and LinkedIn have almost 2 billion users between them. Then, there are more than half a dozen other social media sites with their own set of unique users. All this makes social media an important part of current day online marketing strategy. If you have a website on WordPress, you can use the best social sharing plugins to reach out to your target audience on these social sites. Here are 8 social sharing plugins for WP that you should consider using. They'll help you to make the most of the current "social revolution."
Sharebar is one of the most widely used social sharing plugins for WordPress. It adds a customizable and dynamic vertical box alongside the blog post with buttons or links to the top social media sites. The plugin creates larger buttons in a vertical format to the left of the blog post. It also creates smaller buttons in a horizontal format under the title if the page has a width lesser than 1000 pixels.
Use the Flare plugin for creating customizable share buttons. You can also create a Follow Me widget. This will allow your visitors to follow your social media signals with just a single click. You can use it to include buttons for all the leading social media sites. These sites include Facebook, Twitter, Google+ and Pinterest. The buttons can be customized and the share bar could be placed on any side of the blog posts. When the buttons are placed on the left or right side, they will scroll down as the viewer scrolls down. Flare has a hosted app version that can work with almost any website.
Socialize is another social sharing plugin for WordPress that makes it easy to add social buttons to your posts. It allows you to place social sharing buttons in 2 places. You can place it within a box below the post or within the content of the post, where you could align it to left or right.
The designers developed Socialize to make it easier to manage and add social sharing buttons. There is an extra panel within the posts admin section from where you could choose the sharing buttons to be displayed. This helps you to choose the most relevant buttons, based on the content of your posts, which can help create more shares and comments.
ShareThis is among the most widely used social sharing plugins for WordPress. The main features of the plugin include over a hundred supported social sites, and a high level of customization. With more than 1.5 million downloads, you will be hard-pressed not to ignore it for your website. This WordPress plugin allows social buttons to be displayed in a Hovering Bar that could go over the right or left side of your posts.
This plugin may have a fancy name, but it is a highly versatile plugin. It is compatible with almost all social media sites and offers lots of customization. Create floating social share bars on the left or right, or buttons that will appear at the top or bottom of the posts. Use this plugin with any social site including Facebook, Twitter, Google+, Pinterest, LinkedIn or Reddit. The "lazy loading" feature reduces the load time.
Social Media Feather is a free, lightweight social sharing plugin for WordPress. It can be used for easily and quickly adding social sharing and other features to posts and pages. It is one of the few social sharing plugins compatible with Retina and other high resolution displays. It is claimed to be the most lightweight social sharing WordPress plugin. It helps reduce your site's load time. Besides, it is simple, low profile, and high-performance oriented.
If you are looking for an advanced WP plugin that could help insert all types of social sharing and bookmarking buttons, then WP Socializer is for you. The plugin has unique features for inserting buttons on the sidebar and into the posts. The shortcodes, widgets, share bars are customizable and can float. The Smart load feature ensures quicker and well-optimized loading.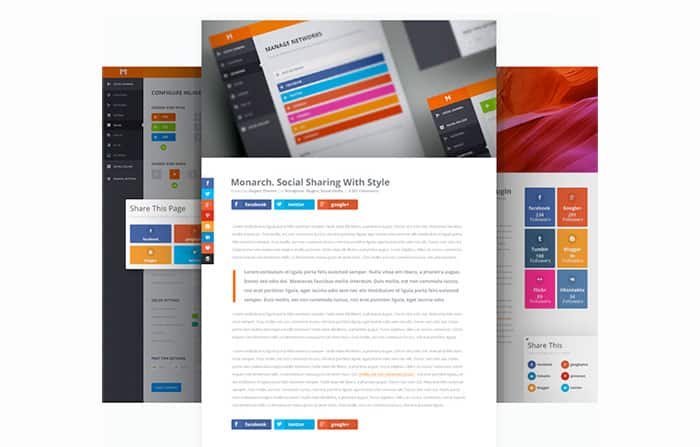 Monarch is the newest and most intricately built social sharing plugin by Elegant Themes. There are so many options with Monarch, you'll be blown away. Here are just a few features:
Floating Social Sidebar.
Inline Sharing Links.
Media Sharing.
Social Sharing Pop-Ups.
Fly-Ins.
Automatic Triggers for Fly-Ins & Pop-Ups.
Social Following.
Inline Social Follow Links.
Sidebar & Footer Social Follow Links.
Let Users 'Like' a Page.
Display Total & Individual Counts.
Add & Arrange Networks.
Import & Export Your Monarch Settings.
These are the leading social sharing plugins for WordPress that can be used for creating and adding innovative social sharing buttons to your web pages and blogs. Some are unique and can help provide special effects on the social sharing buttons unlike anything else. So choose the one that best suits your content, niche and style demands.