Want to find the most effective and cost-efficient solution for your website? Then we have good news for you: Moto CMS has announced a special offer for 1 week. Only 7 days from March 26 to April 1, you will have an opportunity to get a premium Landing page creation bundle for a discounted price. Save up to 88% and purchase the fully-fledged Moto CMS bundle for $39 instead of spending $320 for the items separately.
Actually, this is not the first bundle available with such a significant discount. A couple months ago Moto CMS team has already announced a user-friendly Startup bundle for new business projects that is complemented with all the necessary features you need to launch an online business. For a few days after the release, it was available with 81% discount.
What Does the Landing Page Bundle Include?
This set has many items inside, and it goes together with all the essential add-ons you may need to set up a high-quality landing website with little effort, time, and capital investments. Each Moto CMS bundle consists of several pre-made design patterns, advanced customization plugins, and modules, tried and true hosting, and many other elements which will boost your Internet-projects.
2 Multifunctional Landing Page Themes
Inside the bundle, you will find 2 universal and multifunctional themes that cost $42 single: Appriori and Marketon. These two designs have both Moto CMS and HTML variants, so you will have an opportunity to choose the most suitable interface for your projects and build a site quickly using drag-and-drop elements.
Moreover, the themes go together with the catalogs of ready-made design blocks that will make the customization process much easier and quicker. Appriori and Marketon alike are fully responsive, and that means that you will have no need to optimize the themes to handheld devices and different screen sizes.
In addition, each of these templates has various homepage layouts and is regularly updated, so you will have access to the latest theme versions. Not to mention that each design is supplied with the accurate documentation and lifetime provider's support for free.
Appriori Landing Page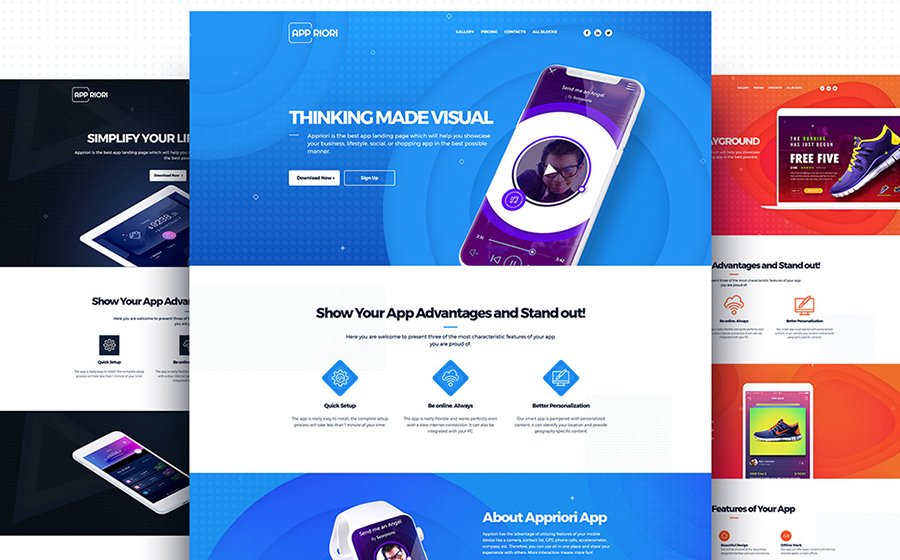 Marketon Landing Page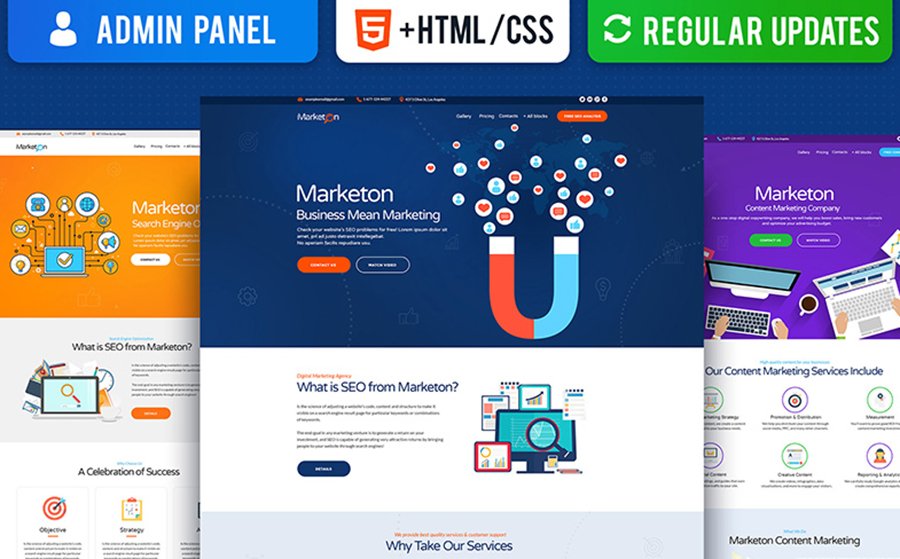 User-Friendly Landing Page Themes
Each of these templates costs $57 separately, but you can get 3 of them included in this Moto CMS bundle. They feature catchy design and useful add-ons, including powerful drag-and-drop builder and up-to-date widgets which will help you to adjust themes to your needs without any great effort.
Have a look at these niche-specific designs included in the Landing Page bundle!
Startup Company MotoCMS 3 Landing Builder
This pre-made theme is a perfect solution for upstart companies and small web projects. It has the MotoCMS and HTML version as well. The design is easy to edit and its mobile-friendly pages will run excellently on any devices and screens.
Event Planning MotoCMS 3 Landing Page Template
This is a real catch for both small-business and enterprise owners. It has a smart and universal design that will meet your requirements and attract clients to your website. Also, the well-built layouts will increase the readability level and draw attention to the most important points of your pages.
Professional Writer & Publisher MotoCMS 3 Landing Page Theme
This landing page theme is suitable for writer sites, marketing agencies, and freelance specialists. It is pretty easy to customize using drag-and-drop page builder included. Also, this template is 100% responsive and ready to search engine optimization. You will be able to set it up without any programming skills, as this theme has a valid and detailed documentation and friendly lifetime support.
One-Year Hosting
As you already know, the hosting provider plays an important role in website building. Fortunately, the bundle goes together with a reliable one-year hosting that costs $47 separately. So, you will have no need to look for the hosting for your online business in the near future.
High-Quality Competent Support
As can be seen, this bundle is supplied with 5 template installations for $49 each. Considering the fact that you will have 5 ready-made templates inside the package, you can get the installation of all these templates by the competent support team.
Social Media Pack Included
Usually, the advanced social media package costs $14, but you will get it together with the Moto CMS bundle. In other words, you will have a great variety of pre-made banners to expand your audience on social media and boost your business projects.
Banner Set for Google Adwords
Google Adwords are known worldwide for their powerful and effective campaigns, and you will have an opportunity to try them on your business undertakings with the fully editable banner set that meets all the standards. The only thing you need is to make them suitable for your project specificity and promote your website.
White Label License
Actually, this service worth $19 is also packed. It will help both novice and experienced web-developers to concentrate on page customization instead of web-development aspects.
Icons Set
If you want to fit the tastes of your target customers, pay attention not only to readability but also to visual design including different types of catchy content and icons as well. This package contains a fully-fledged multipurpose icon set that has a regular cost $11.
Page Speed Booster
With the help of this page speed booster worth $19, you can easily make your images optimized and increase the load speed several times. This way, your site will become more user-friendly and SEO-ready.
SEO Audit
This Moto CMS SEO audit will help you to take your site's performance under control. It will show you all the necessary details of your websites ranking and useful advice to improve your business presentation. You will get accurate and comprehensible notifications about your site's performance in the default mode. This service is available for 1 English-language website.
Professionally Designed Logo Set
The Moto CMS landing page bundle includes a set of 10 multi-conceptual logos that cost $19 when bought separately. They are crafted in AI, SVG, PSD, EPS, and PDF formats and you will have an opportunity to edit them right off the bat using popular photo editing software like Adobe Illustrator or Photoshop.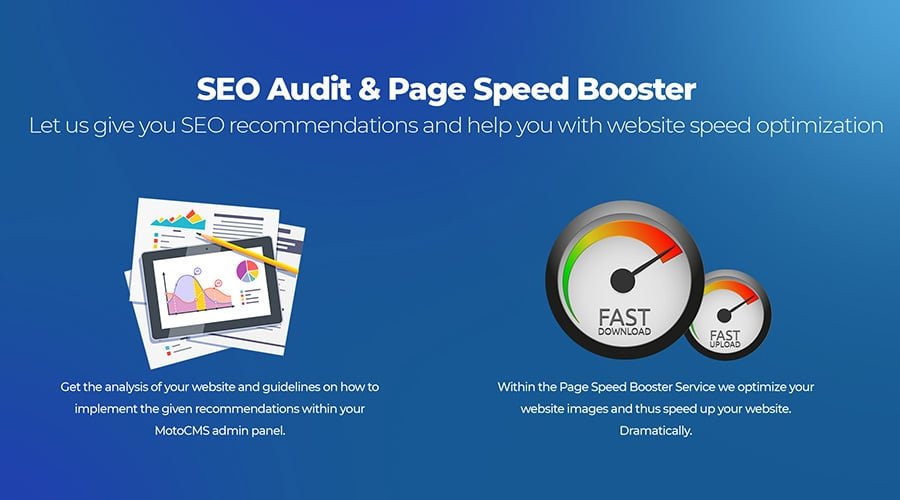 As can be seen, the advanced Moto CMS landing page bundle is an excellent solution for any business field, that will help you to launch a first-class design, adjust it to your company's needs, and promote your projects without a time and money waste. Now, you can purchase this package for $39 only that is 12% of its regular price. Beyond that, you have an opportunity to download the bundle an unlimited number of times.
The special discount price is available on to April, 1, so there is no time to hesitate. Try the bundle on your own and create a stunning presentation of your business ideas on the Internet!
Read also: