FaceBlog Free WordPress Theme
Style

Functionality

Quality
Summary
Overall I was impressed with the Faceblog Free WordPress theme and would recommend it for anyone who wants to have a stylish blog for personal or journalistic reasons. Your photos will look great and the text will be easy to read.
A Review of The FaceBlog Free WordPress Theme
It's been a while since I have shared a cool free WordPress theme, but this week's theme won't disappoint. It seems like all themes look the same lately, but Faceblog stands out from its exceptional style. Created by MysteryThemes, the FaceBlog free WordPress theme is mainly a blogging and editorial magazine WordPress theme.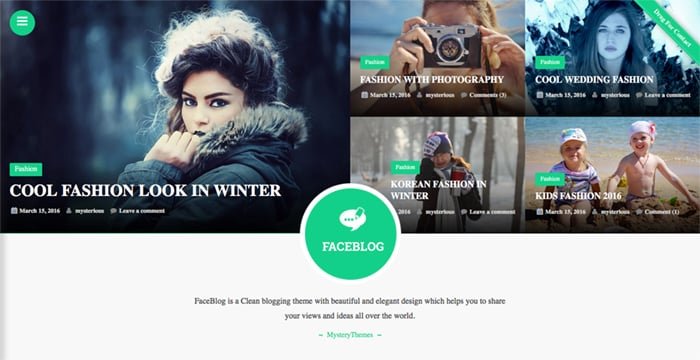 The Look
What I like the most about FaceBlog is the style. The visuals are stunning, especially if you choose the right Photography to go along with your article. We all know the right image can make all the difference. I like the grid gallery of featured posts at the top of the page.
Below that is a list of your posts, which have plenty of room to breathe. They allow for large images, which catch the eye. Also, the colored date overlays is a nice touch, while the author, their name, and the post category are listed to the left, and the title and a brief excerpt are displayed to the right. I love the clean, bold style, with great typography and plenty of space.
Another thing I like is that they took the time to design and style the sidebar. Far too many times, it feels like WordPress designers and developers consider the sidebar as an afterthought. The whole layout is clean, well organized and broken down into manageable chunks that readers will enjoy.
Functionality
The Faceblog free WordPress theme isn't short on functionality. It has a search feature in the sidebar, and the contact form is one of the coolest effects I have seen. You click the ribbon in the top right of the screen and pull it down. The contact form slides down, which becomes an overlay on the screen.
It is incredibly responsive, and your content will look great, no matter what device you are viewing it on. It simply stacks the posts in mobile, making it easy to scan through your content. It utilizes the theme customizer, which allows you to make aesthetic changes from the front end, and you can change the signature color on the site, branding it as your own. Posts look great too, with plenty of room for content to breathe. The main menu is a slide out menu, even on desktops, so the menu is always tucked out of the way. It even features the search feature, ensuring visitors can always find the content they are looking for.
Download The FaceBlog Free WordPress Theme
The FaceBlog theme is unbelievably free. You can download it any time and set up your own stylish blog in no time. To download, click the link below to go to the download page.
Save