Inspiring Web Designs
I decided to start a new series of posts this week where I explore inspiring web designs that really take a unique approach to their business. It could be anything from a unique color combination, to a unique layout, or both. When you take the right content and use the right layout or design approach to show it off, your website is sure to stand out. The websites below look great and are highly functional at the same time. This post is meant to inspire you to create your own great work. So, sit back, grab a cup of coffee, and explore the inspiring web designs of the week.
The layout and interface of this website takes a unique approach. I love how the video interviews play in the background while you explore the different parts of this site.
I love the edge to edge grid of this site. I also like the consistency of the site, with the titles of the posts on the right side of the image. The images and layout are responsive, too, making this a great website on any device.
Minimal is always good. I like the combination of the yellow-orange, the black, and the white. Anything that is a different color really stands out.
The colored columns and the minimal type bring be back to the classic days of type and design. I love the big, bold type moxed with the smaller type. The colors are bold and play off of each other well.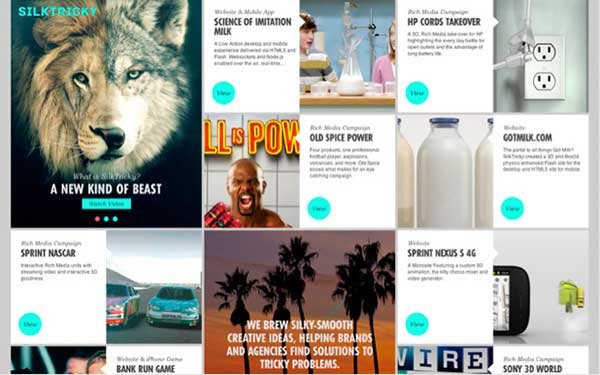 What a great way to display articles! I love you the article title and the image share a half-and-half approach. I also like how the designer mixed up the layout with larger images with title overlays in different areas of the design.
Lemonade La is a great parallax scrolling site with awesome illustrative backgrounds. The images and the hand-drawn lemons play well off of each other so that the website seems fun and lively, instead of serious.
Shiner Beer has a great website that really shows off their products. You just want to site there and look around. The site is modern, but the graphics have an old-style, gritty appeal to them. The typography is excellent and supports their old-style design, too. This one is probably my favorite today.
Which of these do you think are the most inspiring web designs? This is a great mix of seven different sites that all take different approaches to design, but they still look great.