Metrize Icon Set
The Metrize icon set is a great free icon set for anyone who loves simplicity. It features many useful icons, including social media icons that you'd use everyday. The arrow icons for user interfaces are especially useful. You can use them in image sliders and more. The Metrize icon set by Alessio Atzeni is a slick free icon set that is practical and looks great, too. You can preview the Metrize icon set below.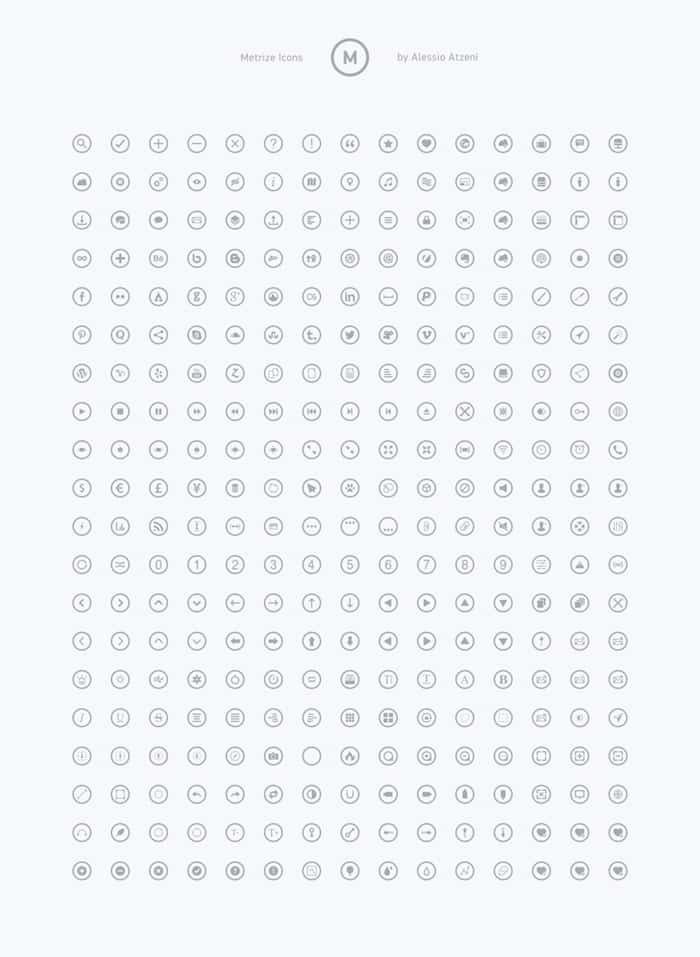 It works perfectly for your apps or web projects. You may use these icons for both commercial and personal projects and customize them any way you like. You are free to use Metrize Icons (the "Icon Set") or any part thereof (the "Icons") in any personal, open-source or commercial work without obligation of payment (monetary or otherwise) or attribution. Do not sell, sub-license, rent, transfer, host, redistribute the Icon Set. (either in existing or modified form). The rights to each "Social Icons" are either trademarked or copyrighted by the respective company.
Metrize Icon Set Includes:
PSD (Single Shape Layer)
SVG (Single Icon 512 x 512)
EPS
AI
PDF
Web Font
The bundle also include Metrize Font Icons, inside you will find a simple guide how to use the webfont with @font-face, the necessary scripts for compatibility with IE7 and the complete character map. It is absolutely amazing that this set is free. You get the icons in Adobe Illustrator format, so you can edit them how you like, and you also get a webfont too. Most makers of icon fonts charge or request attribution for something so great. keep in mind the amount of work that went into this.
Download the Metrize Icon Set
Pick up this awesome icon set and use it for free in your website projects. Your site or app will look great, and you'll have a lot of control over each icon, too. To download, click the link below.