Planum Free WordPress Theme Of The Week
Is it just me or does it seem like the websites I am seeing right now all look the same? This is frustrating, because I like to see fresh new designs that show content in a new way. That's where Planum, by DinevThemes comes through with a fresh look. The content fills the entire browser and the whole theme has a content-heavy presence.Let's take a look at the Planum free WordPress theme and its features.
The great thing about Planum is that even though it fills the entire browser, it doesn't have a cluttered look. On top of that, it even has a slick animation when you hover over a post. In the header, you have a simple text navigation menu. You also have a spot for a large text message, welcoming visitors.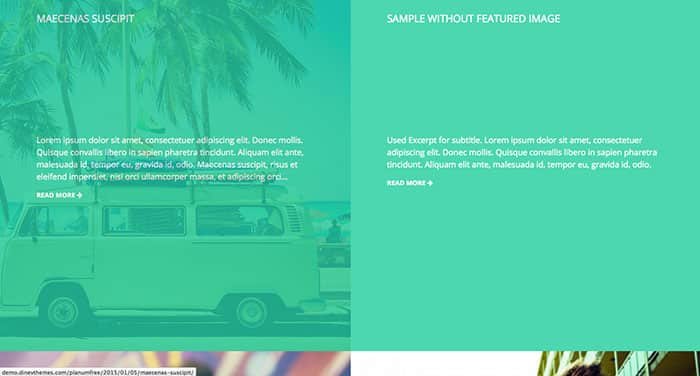 I love the overlay effects on the blog posts. Your top post, or a sticky post, is shown full width across the site. When you hover over a regular post, the title and the excerpt slide up with a colored overlay. Even when you don't have a featured image, it still shows the title and the excerpt by default. This means that you don't always have to have a featured image, which can vary your layout.
Planum also has a grid layout for the blog page, too, giving your blog an organized look. One thing I really like are the block quotes, which place your text in white over the color of your choice. This is a great way to show unity on your site, while calling attention to a section of content.
Download Planum
Planum is an excellent choice if you're looking for a unique look, without looking cheap or generic. Planum is a great choice for a visual blog, especially if you have large, eye-catching images. To see a live demo or download the Planum free WordPress theme, click the links shown below.