For last couple of years, there is a growing tendency among webmasters to use visual contents (such as images with text, charts, graphs, infographics, screenshots, etc.) in place of lengthy text contents to address their existing user and potential audience. Actually, visual content attracts more users than pure text content.
These days, people use their smartphones to take photos and videos, post it on social media platforms such as Facebook and Twitter and get more likes, comments and shares. In fact, the rapid emergence of visual platforms Instagram and Pinterest has forced even companies to make use of the visual contents for a great user- engagement on their website and increase its traffic.
You can use custom images/videos etc., to meet your needs for visual contents. But, finding great quality visual contents (that conveys your messages effectively) is a time consuming process. All individuals, who operate websites, are not expert graphic designers. On the other hand, there are many webmasters who don't want to waste their precious time to learn the basics of Photoshop with an intention to design good quality images for their websites and blogs.
Tools for Creating Engaging Visuals
Luckily, there are several tools that will help you to create user-friendly and attractive visuals for social media channels and blog. Just have a look at some of them:
1. QuotesCover
These days, social media visuals are full of quotes and there are a number of people who want to share different, unique and awesome quotes, but they fail to get the desired attention. With the help of this tool, they can make their graphical quotes in just three easy steps and make it go viral.
Create graphical quotes easily in just 3 steps:
Put your quote in quote box,
Select an output dimension out of 7 and
Go to quote picture generator, use font, background, color, background picture as per your desire to create quotes finally.
2. PowerPoint
Powerpoint acts as a presentation tool, which allows you to create interactive sliders. you can also save them as images in formats like JPEG or PNG. You can also use it as a blank template for creating video contents and an make animated GIF with Powerpoint sliders.
3. Visage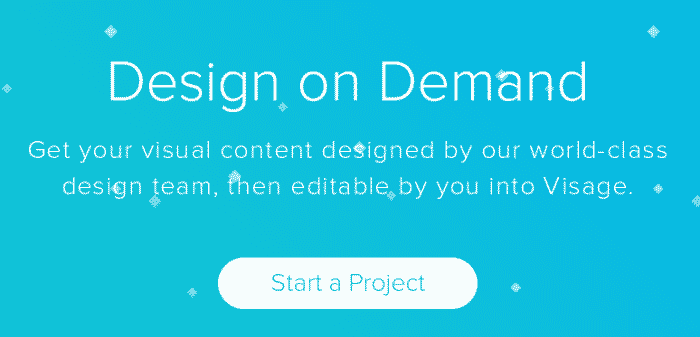 Availability: Visage
With the help of this free design tool, you can create stunning images for your social media, articles, websites, etc. This tool has a large library of free images, which you can use and mix data to develop infographics for your use. You just need to sign up on this platform to start creating images.
4. Social Image Resizer Tool
This tool is useful for you if you need to resize images quickly for your social media profiles. Just upload your images and photos and resize them to fit the sizes for Facebook, Twitter, Google+ and others. If you use Facebook for commercial goals, it is important for you to keep photo size and aspect ratio just right to get it appeared clearly in the news feed.
5. BeFunky
BeFunky is a full photo editor, which allows you to create photographically rich digital images easily and even if you have don't have any technical knowledge. This tool has several features such as cropping, text, borders, filters, blemish fixes, red-eye and cropping. It enables you to grab your photos from several places, including your webcam, Flickr, Facebook and computer. You can put effects in photos, increase and edit pictures, sketch, painting, pop art etc.
6. Infogr.am
With the help of Infogr.am, you can make amazing infographics and can add them in your blogs, websites and elsewhere. You can easily upload excel sheets (with data) to infogr.am. It automatically creates infographic you look for. You don't need to have programming or web design skills to operate this tool. The prominent feature of this tool is that it creates charts with an interactive layout.
7. PicMonkey
PicMonkey is a free photo editing tool that allows you to edit wide variety of images. As this tool runs on your browser, you can easily collect images from Flickr, DropBox, OneDrive, Facebook, PC and can edit them. When you use this tool, you access some features such as textures, frames, great overlays, attractive fonts, great touch ups, basic editing tools, etc. All these features help you create attractive images easily and comfortably.
8. Pablo
Pablo is a convenient tool to create beautiful graphical images for your social media sharing. You don't need to login or register to use this tool. With this tool, you can create and edit images quickly. Don't use this tool if you are looking for advanced features such as effects, touch ups, frames, collage, themes.
9. Over
If you want to use your mobile device for designing images, then you can use this photo-editing app. By using this tool, you can easily add text to your images, choose backgrounds, attractive fonts and save your image. This tool also allows you to submit the edited images directly to your social media channels.
10. Canva
Canva is a marvelous image creation tool, which offers you a large variety of options to develop stunning visual content images. You can register for it using your Facebook or Google Plus account. Just use this tool and create almost all things you want such as invitations, business cards, posters, presentations, etc. You can also access its page image library by spending just $1.
SUMMARY
Now, there is no need to hire a graphic designer and learn Photoshop. Just use above mentioned alternatives and make your graphics beautiful, attractive and eye-catching to attract more traffic to your website, blog, social media channels, etc.
Author Bio:
Lucy Barret is an extremely talented blogger and experienced Web developer. She is currently working for a PSD to WordPress company and handling major projects. In her free time, she likes to read and write technical articles.
Save
Save
Save