When spring is around the corner, we are ready to be inspired by the fresh, soft and delicate touch of the first warm breath of the wind, newborn grass sprouts and early flowers that beam from under the snow. Nature is not in its full abundance and richness, but at the stage of being delicate, clean and vulnerable. Of course, all these qualities are the ones that are associated with femininity and womanliness. Today, I want to speak about what is feminine and how to appeal to the female audience when creating your website.
I assume that you're here to build a website that appeals to females in this or that way. Presently, there are a couple of ways to go. I'll briefly review them. However, the choice is yours. Firstly, you can purchase a custom design for your website. What does this mean? This means that you find a web design professional or agency that deals with such project and they create a design for your website from scratch up to your wish. Actually, this is a great option for large companies that can afford to pay hundreds of dollars for the design of their website and then paying no less for maintaining it. However, for small businesses, this is a financial burden that is not wise to spend money on. Consider that custom designs come with no documentation for working with them, so, in maintaining your website, you'll have to limit yourself with basic functionality that is documented in your CMS (Content Management System) documentation.
Secondly, the option you have is to go for a free website. Of course, as it's free so it may seem that you lose nothing. However, that is not so. Actually, you lose your time for creating a website, the functionality and design of which are pretty basic and won't raise your business up a notch. Statistically, the websites with free online software are low converting as people are driven away by crummy, basic appearance of the website and by free software labels. Creating a free website would do for a personal non-profit blog. However, they are not good if you want to derive profit for your website or promote your services with its help.
Finally, the third way is the most popular nowadays. For it, you do not need to overspend but can get the website the design and functionality of which can compete with custom designs. This is building your website based on a template developed by professionals. If you make a wise choice of the template, this means that you get a website with the top-notch design that incorporates all the modern technological advances, as well as offers additional functionality depending on the branch of industry that you work in. Moreover, with the template, you do not need to pay someone to get your website launched for you and to maintain it. You can do everything yourself and get the website that generates leads and results in conversions. Moreover, if you purchase a template from one of the big companies on the market, you'll get all the documentation you need, as well as free lifetime support.
In this post, I want to share with you top 20 WordPress themes of this spring that target female audience. These templates are developed by TemplateMonster, one of the leading companies on the template marked. Why I trust them? In the first place, this company has over 15 years of experience on the market, in these years they followed all the web design trends and they definitely know what is needed for a high converting website in 2017. Secondly, all their templates have the sound base of valid, well-documented code that ensures you high ranking in search results. Thirdly, you can check the full collection of their WordPress themes here and make sure yourself.
Top 20 Feminine WordPress Themes, all run on WordPress CMS that I personally prefer to work with thanks to its simplicity and user-friendliness. And that's not only me, who prefers working with this CMS. Presently, WordPress powers 58% of all the CMS websites in the world and it's the leader that's beyond the reach of its runners-up (Joomla powers 7.1% of CMS websites, Drupal powers 4.7%). In fact, you can see the full list of CMS popularity statistics here.
There are many great things about WordPress. First, I have already mentioned its simplicity in management and website maintenance. Secondly, search engines 'love' WordPress CMS and WordPress websites rank higher in search results in comparison to other websites. Thirdly, the functionality of a WordPress website can be extended by numerous plugins that are offered free or sold on the Plugin market. There are more than 47,000 plugins developed for WordPress, so you'll find literally everything you need.
So, let me share with you top 20 WordPress themes of this spring that target females. Get inspired with their freshness and softness and feel the breath of spring on their pages!
Stylish Celebrity Portfolio WordPress Theme
This stylish personal portfolio template goes black-and white and features bold typography that makes a statement. The template is developed to emphasize your style and daring approach. Stylish Celebrity Portfolio Theme offers you multiple opportunities for social integration, with the social options that allow you share your updates in social networks on your website and get more subscribers by doing so.
Ultimate Style Blog Responsive WordPress Template
If you are in love with style and fashion and have what to share with the world, Ultimate Style Blog Template is the optimal blog tool for doing this. The template is easy to customize with the Power Builder that lets you build new website elements and layout with simple drag-n-drop.
Trendy Girl: Style Blog Responsive WordPress Site Design
If you are up to uncovering all the latest fashion trends, this template is the one to become popular. The template has a minimalistic, upbeat design that makes it similar to an online fashion magazine. Additionally, template functionality incorporates custom widgets, that let you create advanced sliders, post carousels, filterable portfolios and much more.
Perfect Hairstyles: Hair Salon WordPress Website
This beauty & hair salon template has a light, shimmering color palette. The template boasts Power Builder, the drag-n-drop page builder that makes editing the template simple. It has content modules that allow adding different types of content to your website, be it pricing tables, call to action buttons, images, blurbs, contact forms, sliders and much more.
Natural Skin Health Responsive WordPress Site
This soft skincare WordPress theme comes with a set of content modules and custom widgets that provide for the rich functionality of your website. Appointment Manager Plugin lets your clients book an appointment with you directly on your website and see what time slots are available. Of course, you can edit the template in Life Customizer that allows seeing all the changes you make on your website right away, so you do not need to constantly reload the page.
Majestic Fashion Blog Responsive WordPress Template
This template of dark shades creates an atmosphere of female mystery and magic. With its help you can uncover all the greatness of fashion items that are real gems that won't shade with time. The template is responsive, Retina ready and cross-browser compatible, meaning that it'll look great on all screens and in all modern browsers.
Your Daring Style: Female Fashion Blog WordPress Template
This fashion blog template is carried out in neon, saturated colors. Due to Parallax and LazyLoad effects the homepages creates the effect of full immersion. Meanwhile with the video backgrounds mesmerize your website guests. The template is optimized for conversions with carefully-places CTA buttons and social options that are above the fold.
Style Tips for Every Day Responsive WordPress Website
If you're a raising style expert striving to become a real style guru, this grey-and-white template will be an ideal choice for you. It reflects upon the modern approach to fashion, where excess and abundance are not favored. The minimalist design of this responsive template looks equally great on all the devices from smartphones to large desktop PC. The Home page of the template has the layout that lets you make the most out of it and share all the information to make visitors interested in mere seconds.
Feminine Beauty Salon WordPress Site Design
This utterly feminine beauty salon template presents the beauty procedures that you offer in the most favorable way. Its not-notch design is underpinned by pleasing flower shades. Due to Cherry Framework 5 this template allows you professionally showcase your salon and procedures with Cherry Projects Portfolio. Cherry Team and Cherry testimonials become a standpoint for establishing customer trust and creating the audience of devoted clients.
Your Unforgettable Day: Wedding WordPress Theme
This is an elegant theme for a wedding company. White flower bouquets refresh the design of the template and create a festive atmosphere. The template comes with 80 + shortcodes that let you create custom post types and post formats. The template is WPML ready, meaning that you can easily power a fully-fledged multilingual website with it.
Memories that Last: Wedding Album Maker Responsive WordPress Template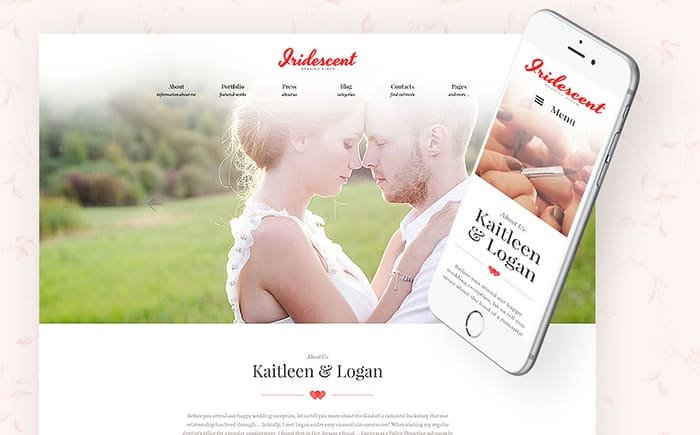 This wedding template centers on the concept of love. The two basic colors of its color palette are white and red. Visitors are bound to love the fun icons that the template utilizes. You can customize the website in a matter of minutes with Live Customizers that lets you see the edits on the website right away.
Fashion Portal Responsive WordPress Website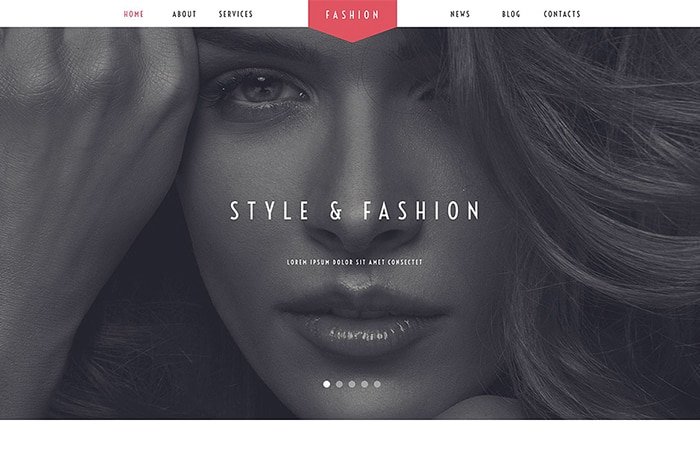 Give your visitors the full immersion into flawless fashion shots with new generation Parallax effect that beautifies the Home page of the website. Maintain the 3D depth with a top-notch slider that lets you add up to 10 slides with your promos and most important updates. Moreover, the template comes with an auto-updater, so you'll get it updated free as soon as an update for it is released.
Be Creative: Modern Writer WordPress Site
Award-winning writers should have appealing websites that let them uncover their writing power. This SEO-friendly template has valid and well-documented code and gives you a sound base for your creative undertakings. The template has advanced Bootstrap 3 functionality that assures that the template would seamlessly adjust to any screen size.
Feeling the Rhythm: Dance School Responsive WordPress Site Design
This dance school template reflects the gist and beauty of pure motion with its Parallax backgrounds and animated website elements. No doubt, with this template you have a chance to present your dance classes with images, videos and audio podcasts that are the best way to motivate people to join your classes. Surely, with the Appointment Manager and Timetable plugin your website guests can sign up for your classes online and you can get in contact with them if needed.
Upbeat Fitness Studio Responsive WordPress Theme
The uplifting design of this template combines juicy blue and orange shades with immersive Parallax backgrounds. You can post an interactive timetable of your classes and let your clients sign up for classes online. Custom widgets of the template let you add diverse content blocks to your website sidebars and other widget areas.
Popular Photography: Photographer Studio WordPress Template
If you're not the one to fear original ideas and creative undertakings, this fun geometrical photographer template is the right choice for you. Switch between different layout option and create your own layouts with Power Builder. Cheery Projects Plugins lets you create an animated filterable gallery of your photoshoots in a matter of minutes.
Flawless Beauty: Plastic Surgery Responsive WordPress Theme
This plastic surgery clinic template is carried out in calming positive shades of green that are traditional for medical websites. The navigation of your website is intuitive thanks to advanced MegaMenu, with the help of which you can feature all the pages, categories and even articles you need. Showcase your most popular services on the front page banners. Thus they're bound to attract user's attention.
BitNews – Responsive WordPress Theme for a Modern News Portal
This news portal template makes the most of combining traditional newspaper look with modern technological advances, such as Parallax, animation effects and LazyLoad. The template features up to 500 Google Fonts that is beneficial for a news portal. Smart use of white space on the website lets you lead your reader's eye to the contents that they are most interested in.
Meet Your Second Half: Dating Responsive WordPress Website
This minimalistic template makes smart use of every pixel of your website. The template is built on Monstroid, one of the breakthrough website systems that give you an immense set of advanced features. Polygonal patterns and polygonal divider lines determine the trendy look of the theme. Additionally, enjoy simple installation with Monstroid Installation Wizard: you can simply lay back and drink a cup of coffee, while the template is being installed.
Healthy Mother: Pregnancy Responsive WordPress Site Design
This template winningly combines the shades of light blue and white backgrounds that create the atmosphere of calmness and balance. Moreover, the template features an advanced set of plugins, such as Cherry Services, Cherry Team Members, Cherry Search, Appointment Manager, Timetable Plugin and much more. You can create custom sidebars and transform your website layout with Cherry Sidebars plugin.
I hope you enjoyed your journey into the world of top 20 feminine WordPress themes. Do not hesitate to check out the Live Demos of the templates that appeal to you. To learn more about the template technical requirements (WordPress version, server configuration, etc.) check out the Details page of the template.
Installing modern WordPress templates is not a headache. You can review the process by watching this video-tutorial:
Ultimately, I am happy to say that all these themes are well-documented and come with free 24/7 Chat and Phone support. Just drop a line or call a Technical Support operator and they'll be happy to help you out.
Therefore, if you have any questions or comments, feel free to ask them in Comments section.
Stay tuned!