Top 5 WordPress Themes
It has been a great month for people who needed to get their websites developed and especially those who wanted them to be developed through WordPress. A huge number of mind-blowing and creative themes showed up this June and there were so many to choose from for this post! All of these themes are impressively designed and integrated with features you would only find in premium WordPress themes.
Let's start the count down!
Adventurous is a multi-purpose brand new theme that can be used for a number of different websites. However, based on its design and features, it is preferable for photographers, bloggers, and writers! It comes with a responsive design and packed with a lot of features you can only get in premium themes.
Built using HTML5 and CSS3, this theme offers great functionality for businesses and portfolios, and companies that provide services. Verbo is loaded with tons of features and options that come in handy, moreover, it is under the General Public Use license.
Created by aThemes, Solon is a highly responsive theme that stands out due to its unique appealing colorful looks, and the trendy visuals. Perfect for all kind of blogging, Solon is integrated with a large number of features like Google Fonts, Css transitions, Font Awesome. If you own a business, or a service, you will find this theme useful!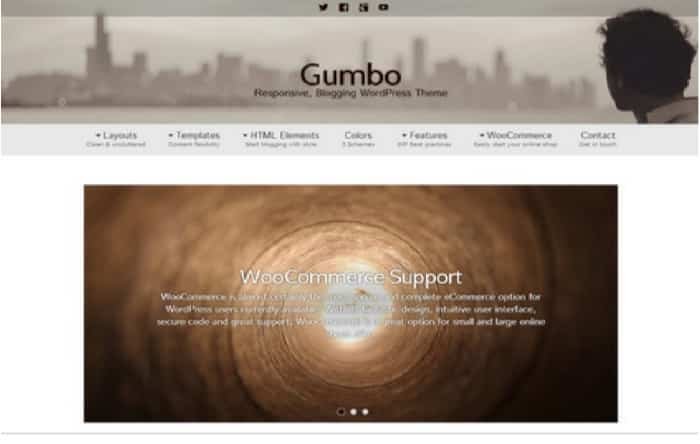 Designed by Slobodan Manic Gumbo is a theme that is loaded with a huge list of features. If you wish to setup and online store, you will love the WooCommerce integration, which allows you to setup, and create an online shop quite easily. Moreover, the theme comes with a responsive and adaptable layout. If you thought that is all, you are wrong; it is also loaded with a theme customizer which allows you to preview changes in real time! It comes with three different color themes and much more!
A creative and multi-purpose WordPress theme, Accelerate comes from the house of ThemeGrill. If you like simple and elegant, you will surely love this theme as it is designed with a minimalist approach. However, that doesn't mean you will need to compromise on the features. Accelerate comes pre-loaded with features like custom CSS translation, boxed and wide layout, Awesome Slider, 4 layouts and a lot more!
If there were to be any two best out of these 5 themes, it would definitely by Gumbo and Accelerate. Gumbo because of its amazing layout, the great features, and its ability to capture attention almost instantly.
Moreover, it has some great features integrated into it too. The other one would definitely be Accelerate, largely because it is simple, yet elegant and beautiful. Accelerate is designed using a minimalist approach while using the perfect combination of layouts and colors. Added to that, this theme comes with excellent features.
However, the list doesn't end here, there are hundreds, thousands of themes already present on WordPress, and hundreds of them have shown up this month! Let us wait and see what WordPress has in store for us in July!