Psd Website Mockups
Psd Website Mockups are among our saviors as web designers as the use of templates increase their productivity and help in maintaining the quality of work as well. Psd website mockups allow us to draw our own elements and push them around the page, without having to spend a ton of time coding them. There are plenty of websites from where the web designer can gain access to free Psd website mockups. The problem is finding quality psd website mockups that are built with quality.
The free Psd Website Mockups available in this collection are great for anyone looking to layout a site visually before coding it. Once you've laid out everything just how you like it, you can build the site is html and CSS. These templates are best suited for anyone who wants to create a killer layout or jumpstart their next big project. You can use these templates to inspire your own website design, or you can mix and match elements that you like from each one.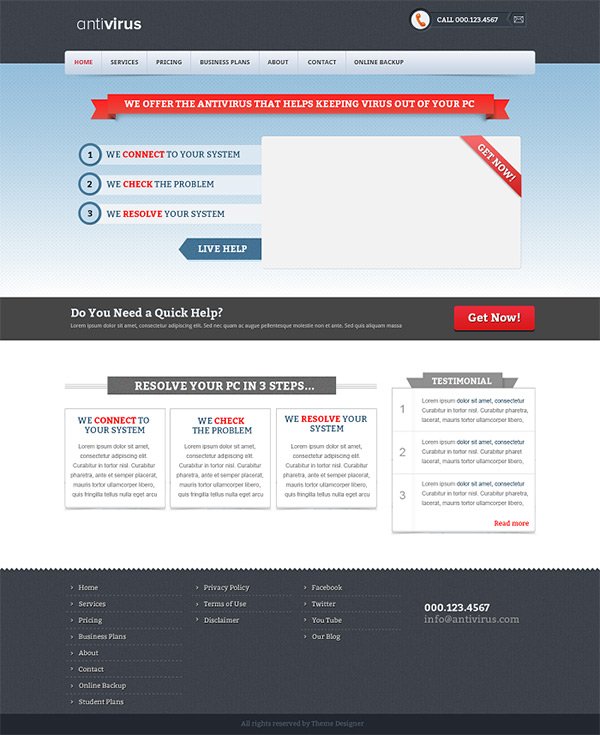 Antivirus has a clean layout, and the ribbon elements throughout the design are a nice touch. I like how certain words are highlighted. The bullet points really stand out in the header.
Bonfire is one of the best psd website mockups I have seen. The color combination is great. The orange, yellow and light blue work very well together.
Jetro is a highly colorful psd website mockup. The orange really stands out. It has a lot of great color, without being overwhelming.

Shape is a colorful organic psd website mockup that is well-structures, while having elements that break the mold.
Looking for a quality landing page design? This psd is a great starting point for anyone's landing page.
Layman politics is a psd website mockup with a great layout. The red banner for the headline of each article is a nice touch. Also the 4-column grid under the slider is a great spot for other interesting news articles.
With beauty and high fashion in mind, Dolce & Gabbana has a nice structure. The grid of images in the middle of the content area really stands out and gets your attention.
Gridzilla is a great psd website mockup with a powerful grid system. With plenty of room for images and text, they work well with each other.
A nice theme for any business, Bislite is a great way to showcase your business and highlight its features.
If you have work to show off, this portfolio psd website mockup is a great choice. With a great call to action and 4 bold tabs for your content, your work will look great.
Want to start your own stock photo website? This is a highly professional psd website mockup to get you started. The layout is clean and the bold imagery immediate grabs your attention.
Creativio is a great free psd website mockup for your portfolio. With a nice slider at the top and plenty of sections for content, your work will look amazing. You'll have a highly professional portfolio site that is sure to get you work.
Conclusion: 12 Free Psd Website Mockups
Which of these are your favorite? My personal favorite would have to be a tie between Bonfire and Layman Politics. To download any of these, simply click their Title above each preview image.