IFTTT Is a Lifesaver
I'd heard about IFTTT, which stands for "If This, Then That", but I'd put off trying it out for a while because I've had so much stuff on my plate. As you might know, I run several design blogs, and handling all of that while building professional websites for local businesses makes my plate not just full, it makes it overflowing. i kind of wish that I'd dropped everything and tried IFTTT sooner, and you're about to find out why.
What is IFTTT?
IFTTT is a script platform that automates your entire life. Imagine something that you wish you could automate, then look it up of IFTTT's website. It's likely on there if it has to do with an app or program working with another one.
How Does IFTTT Work?
When you set up a free account, you log in to specific services when you find one you like. Let's say you wanted to automate Twitter tasks. IFTTT does a lot of that. You'd search their Twitter channel and see what they can do. You'll have to log in and authorize IFTTT. Also, if you start connection social media accounts with other ones, you'll have to log into those as well.
Examples of Practical ways to Use IFTTT
You can connect your Twitter account and set it up so that every time you tweet a link, it gets posted to Facebook, too. I set up one for my local web design company's Twitter account so that it automatically mentions someone when they follow me and sends them a "thank you" tweet. That saves me time and at least covers my bases. If I choose, I could always send a more personal follow-up tweet later.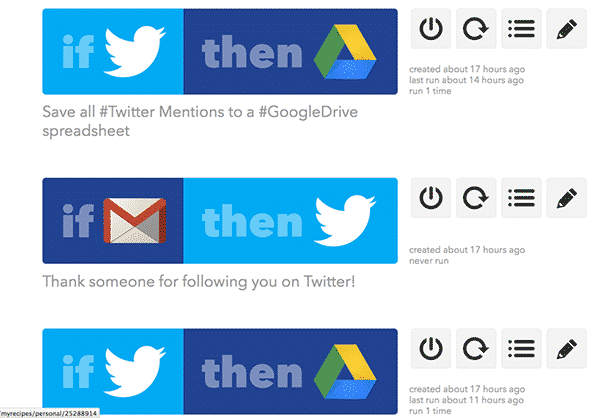 Other Uses for IFTTT
Imagine setting up so that it saves all of your iPhone photos to Dropbox, or Google Drive. You could also set it up so that when you label or star an email in your Gmail account, it gets added to your to-do list automatically. Wow! You'll never forget to respond to another email ever again!
Conclusion: Check out IFTTT
If you've never heard of it, it can really be a huge time saver. You'll spend about 30 minutes on their site the first time, looking at everything you can do. Add the day's weather to your Google Calendar. You could also save articles to read later in Evernote. Really, you could do just about anything you can dream up. What is your favorite IFTTT recipe?