Silverback Responsive Html5 Template
The free responsive html5 template of the week is called Silverback. I created Silverback to show off some of the cool things that you can do with Foundation 5. That's right, Silverback is built with Foundation 5. It features a responsive slider, with different parameters that control speed, whether or not the bullets show, and more. I have also included a modal popup, which allows you to display a popup message when the user clicks a button. In the demo, if you click the button "download Silverback" in the top menu bar, a modal pops up, where you can enter your email address in exchange for the download. Silverback is featured on Web Design Blog, which is a sister site of Creative Beacon. I have been talking about the launch of Foundation 5, with a review of the framework, and a video showing how to set up the initial install. You can preview Silverback via the images below or view the demo here.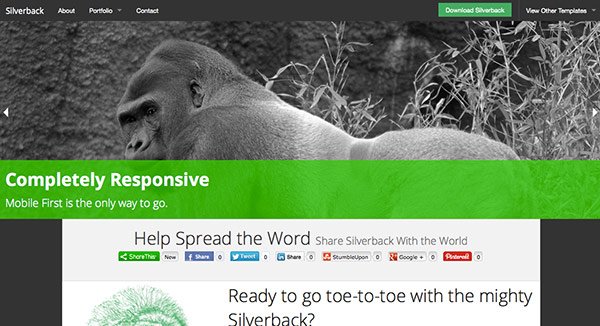 The home page features a callout section where you can display a message. In the example above, I showcase share buttons and a request fro visitors to share the free template with others.
The bio page of Silverback features a bio section, and a couple of different sections for skills, titles, etc.
There are actually 3 portfolio pages. You have a 2 column, a 3 column, and a 4 column layout. Each one features images and a description.
The contact page of Silverback is a 2 column split, and features an easy form for visitors to fill out. Your contact information is on the side, and there is even an integrated Google map, which is a standard feature in most sites today. I also want to stress that all of this template's custom CSS is placed within a theme.css file, so if you want to wipe out my custom styles of change something, it should be done in that particular stylesheet.
Download the Silverback Responsive Html5 Website Template
It's really easy! All you have to do is enter your email address below, and you'll be sent a verification email. After you verify your email addresss, you'll be sent this responsive website template as soon as possible.